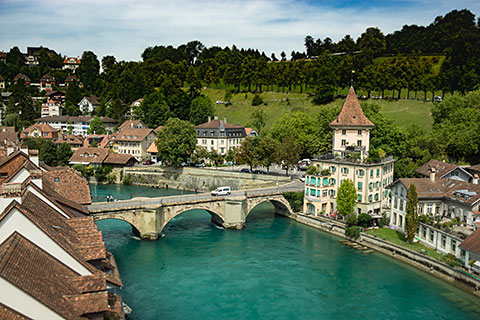 Getting to Bern
With its central location in the northern foothills of the Swiss Alps, Bern is easily accessible by air, road, or rail.
By Air
Bern's small international airport
Bern-Belp (BRN)
lies just a few kilometers south of the city, but service is very limited.
Most people chose to fly to larger (and cheaper ) airports such as Zürich (75 minute train ride), Geneva (2 hour train ride), or Basel (60 minute train ride) and arrive by train. In both Zürich and Geneva, an SBB station is located inside the airport, allowing direct transfer to trains to Bern.
By Train
Bern is conveniently located in the vast network of
Swiss Federal Railway
between Geneva, Basel and Zurich and is served twice per hour by express (InterCity) trains from each of these cities as well as Zürich and Geneva airports. For more information:
Swiss Federal Railway a useful online travel planner which includes information about local bus and tram services as well as rail services and can plan your journey from door to door.


Swiss Travel System is a great source of information for finding the best ticket as a tourist. It is a must to visit, as regular, full fare tickets are expensive. This site tells you what is the best option for your needs.
By Car
Bern is easily reachable with the national motorway network from all directions and has several exits from motorways A1, A12 and A6.
Getting Around Bern
Free Public Transportation
There is a network of trams, buses and local trains (S-Bahnen) that allow for easy traveling all over town. A car is not needed to get around. The Bern Ticket offers free traveling in the public transport zones 100 and 101, which is basically all of Bern. You will get a free Bern Ticket if you book a hotel, an apartment, a hostel, or any other accommodation in Bern. After arrival in Bern, you can use your printed booking confirmation to travel from the rail station or airport to your accommodation for free. You will receive the Bern Ticket when you check in.